Top 10 Features in Magento 2 Commerce
This entry was posted on November 01, 2019 by Itana Stanojević, SyncIt Group Content Writer.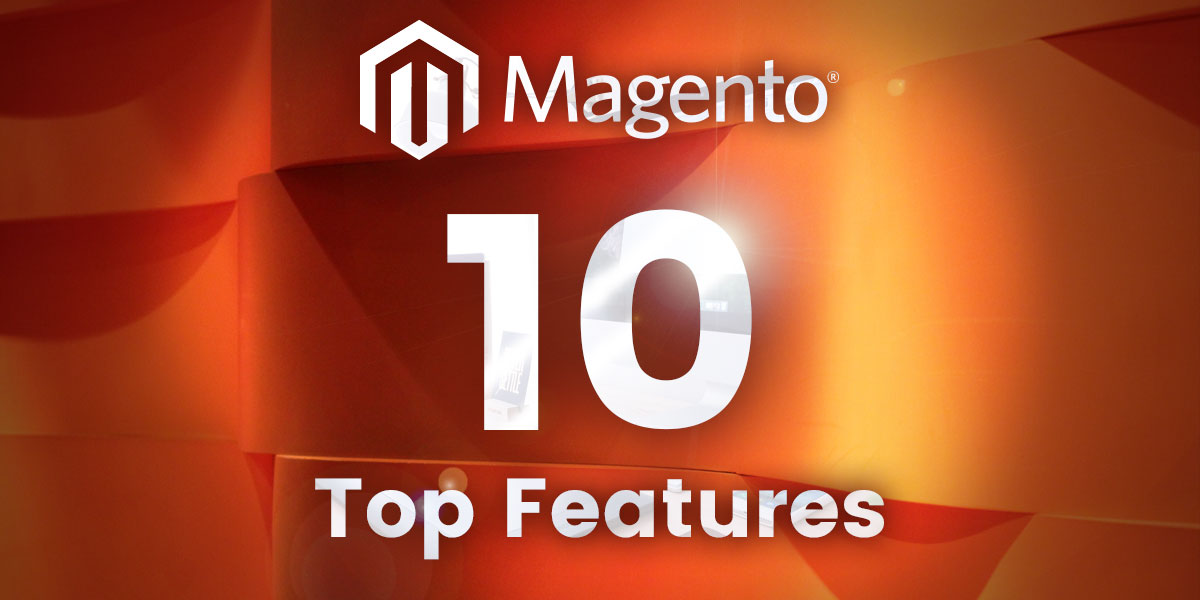 The Features - Our Top 10 List
Magento 2 Commerce is extremely rich with features, and many of them are available exclusively within this eCommerce platform. Today, we are going to thoroughly describe the 10 features we find the most interesting and useful:
Content Staging
B2B modules
Admin Action Log
Visual Merchandiser
Store Credit
Returns
Rule-Based Related Products
Gift Cards
Multiple Wishlists
Customer Segments
Without any further delay, let us take a closer look at the characteristics of these top 10 amazing features that will definitely change the design and functionality of your web store.
Content Staging
Managing the content of your pages has never been easier or more dynamic, and it is all thanks to the Content Staging feature. Apart from the general management of the content (creating, editing, previewing), you can trigger the appearance of certain elements of your web page, i.e., turn them on or off. The elements that can be changed are products, categories, catalog price rules, cart price rules, blocks, and widgets. You are also able to create automatic monthly or yearly schedules around these changes, which contributes to highly improved content management. For example, you can select the pictures of products, banners, and videos for certain events, let's say, Christmas, schedule the items to start showing on your web pages two weeks prior to the event and stop showing a week after the event. When this scheduled time expires, everything goes back to normal, that is, the content of your web pages looks exactly like it did before. This group of changes is called 'campaign', whereas the change of a single element can be called either 'scheduled change' or 'scheduled update'. The campaigns that you have set can be seen on a calendar or timeline, and you can easily manage them from the Staging Dashboard and preview them based on the time, date, and store view they are set for.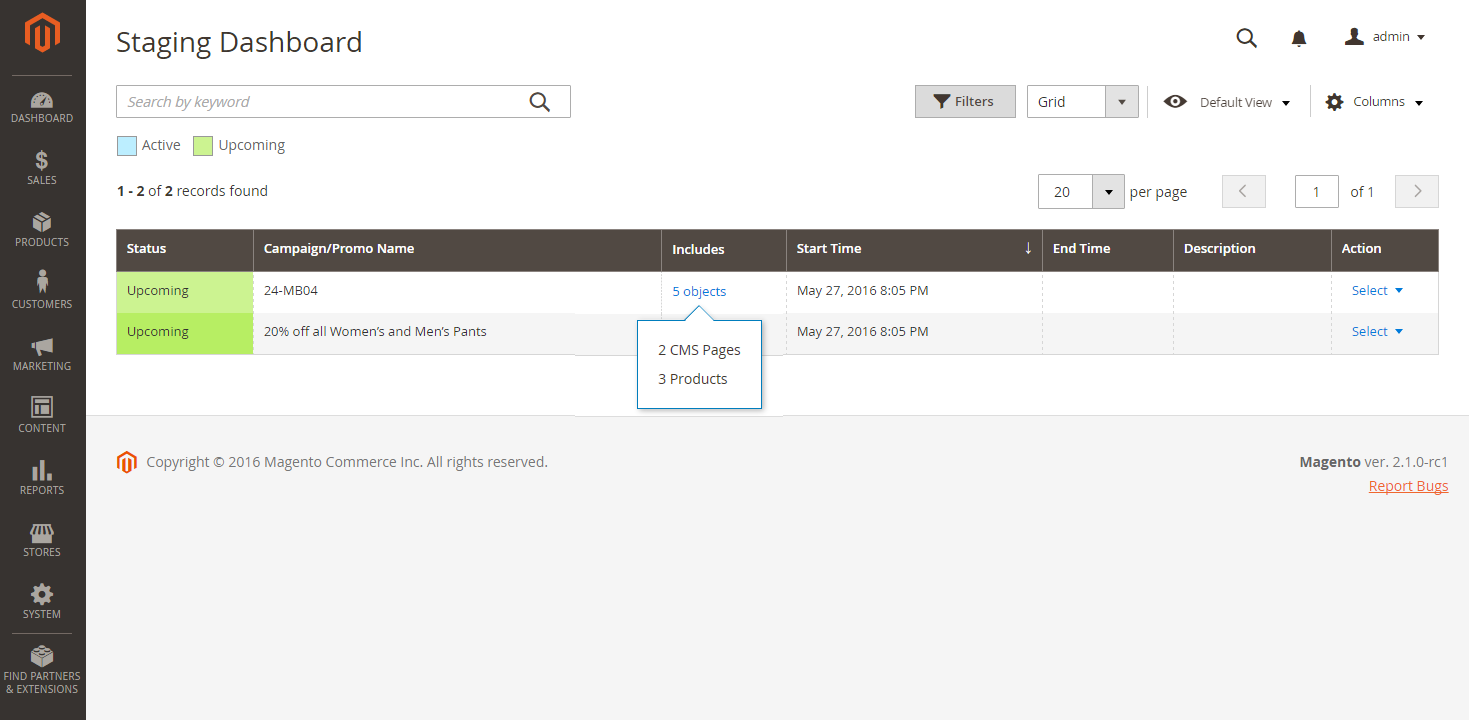 1. Content Staging Dashboard
B2B modules
B2B stands for Business to Business model, and it refers to the exchange of products and services between two business owners, as we have already explained in one of our previous blog posts:

Abbreviations and Acronyms used in Magento 2, A-Z

As opposed to the B2C model, B2B represents a connection between a Magento merchant, i.e., a seller, and a company with a wide network of employees who have different roles within the company, i.e., a buyer. More precisely, the seller is the one who manages the system of the web store from the Magento Admin panel, and the buyer is a company who wants to purchase the goods from that store. The seller's job is to customize the purchase process based on the roles of the employees provided by the company's admin; differently put, the seller can configure the payment methods, pricing levels, requisition lists, gift cards, and more.
This is all made possible thanks to the numerous modules of B2B extension. For example, multiple buyers of the same company can join their accounts into a single account by using the Company module. The seller can allow a credit of a certain amount to companies, as well as manage credit settings and reimbursement, thanks to the CompanyCredit module. ConfigurableSharedCatalog module allows the seller to set different pricing levels for the same products for different customer groups. NegotiableQuote module supports the process of negotiation between a buyer and a seller about the prices of products and shipping prior to placing an order. If a buyer wants to create an order based on the list of multiple SKUs, they can use the QuickOrder module. RequisitionList is another very useful module. It allows the buyer to make multiple lists of the items they buy on a regular basis and place orders by submitting them. If you want to include a Gift Card into your requisition list, you can use the GiftCardRequisitionList module.
Admin Action Log
This feature allows you to track every single step that admins take in the process of developing and maintaining an online store. You can see which admin has logged in and when, added a specific product or category, modified an order, as well as which project an admin is working on. This is extremely helpful since you can monitor everything and fix the potential problems much easier. In order to access these data, simply follow the path from the Admin sidebar: System > Action Logs > Report. The report consists of the following data: Time, Action Group, Action, IP Address, Username, Result, Full Action Name, Details, and Full Details.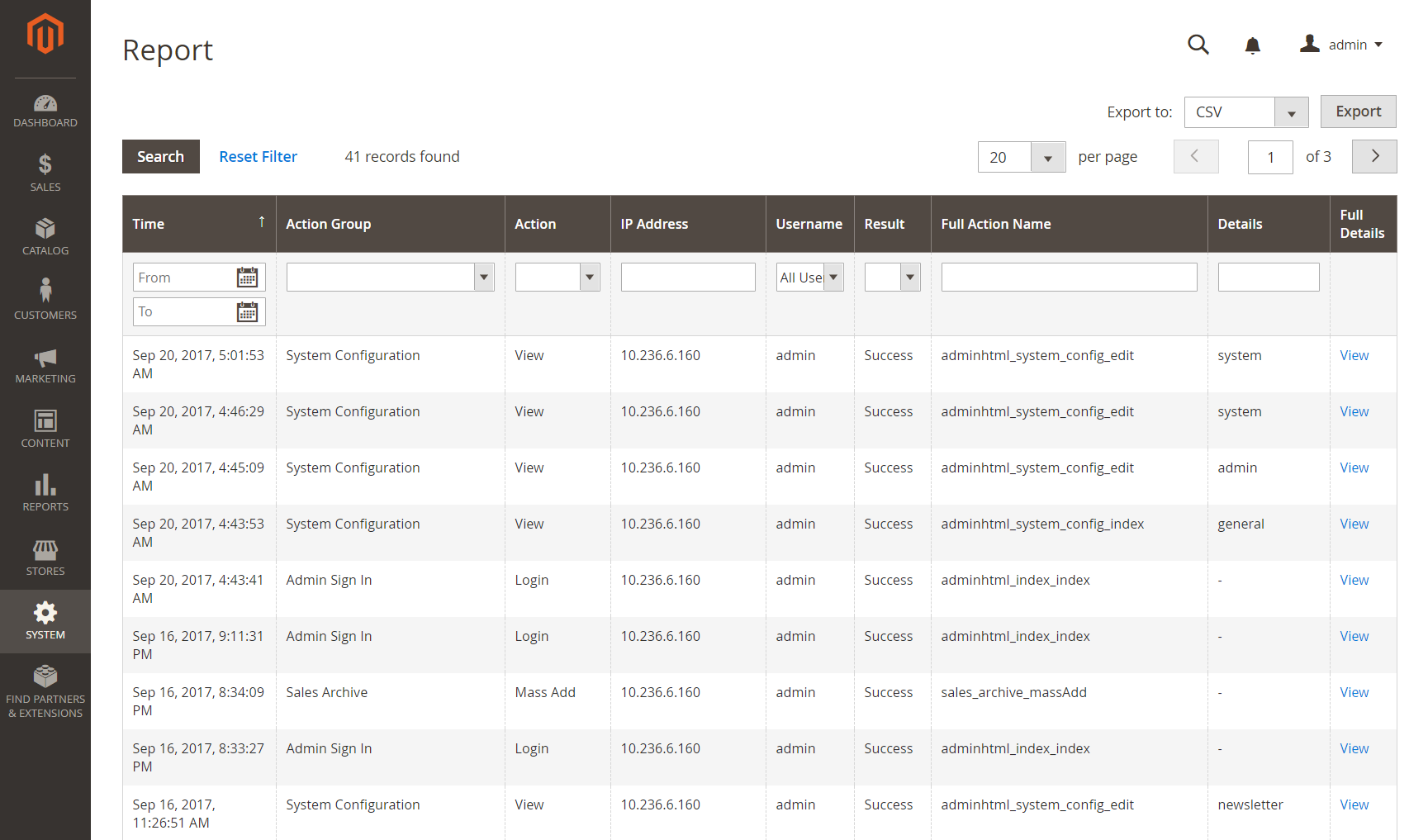 2. Action Logs Report
Visual Merchandiser
Visual Merchandiser is a collection of highly developed tools for setting the position and the appearance of your products within a certain category. These tools are able to help you create a dynamic selection of products, which can be modified according to the changes made to the catalog. While creating the selection, you can choose from one of the two modes - visual mode and the list of products. If you use visual mode, you can see each product in the form of tiles, while the other mode offers you the list view of products. During the process, you can switch between these two modes whenever you want. Just choose Catalog in the Admin sidebar, then Categories; select the category that you would like to edit and start using these advanced tools.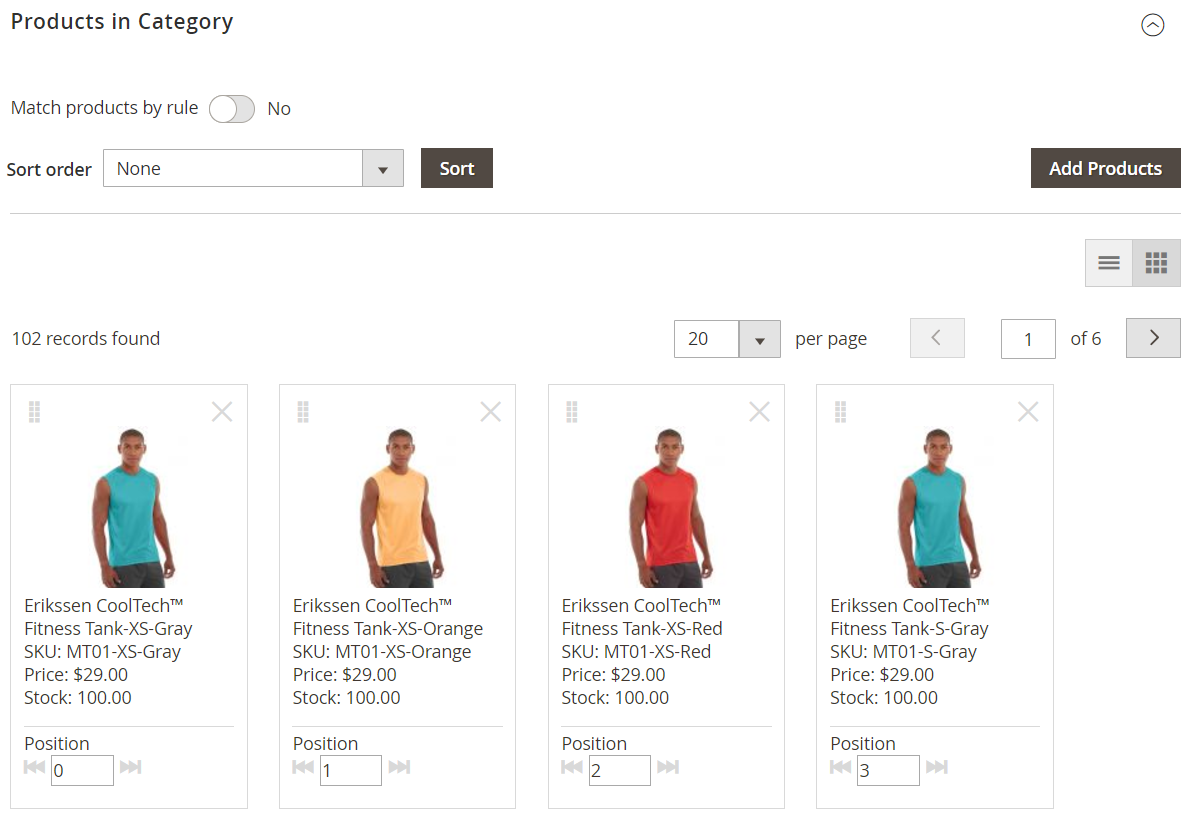 3. Category Products Viewed as Tiles

Another useful feature related to the product categories is matching products by rule. By creating category rules, you assign one or more conditions, based on which the products are going to be displayed on your web store. If you create a category rule for a specific type of product, they will be automatically added to the same list of products, no matter which category they belong to. For example, if you set a category rule for a specific brand for women, for a specific season, in a specific color, all these products are going to appear in the same list of products. Smart attributes, value, and logical operator are parts of each condition.

4. Add Condition to Category Rule
Store Credit
This extremely useful extension automatically adds a credit amount to a customer's account, thus rewarding customer loyalty and motivating them to continue purchasing goods from the store. You can view store credit balance and history, update the balance, send emails to your customers, and configure store credit in a few simple steps. In order to view store credit balance, first choose "Customers" on the Admin sidebar, choose "All Customers" in the Operations section, select the wanted customer. Then click "Edit" in the Action column, and choose "Store Credit". Below the store credit balance, you can choose one of the options for updating the balance, and on the bottom of the page, you can view the balance history. When you update the balance, you can notify the customer about the changes that were made by sending them emails.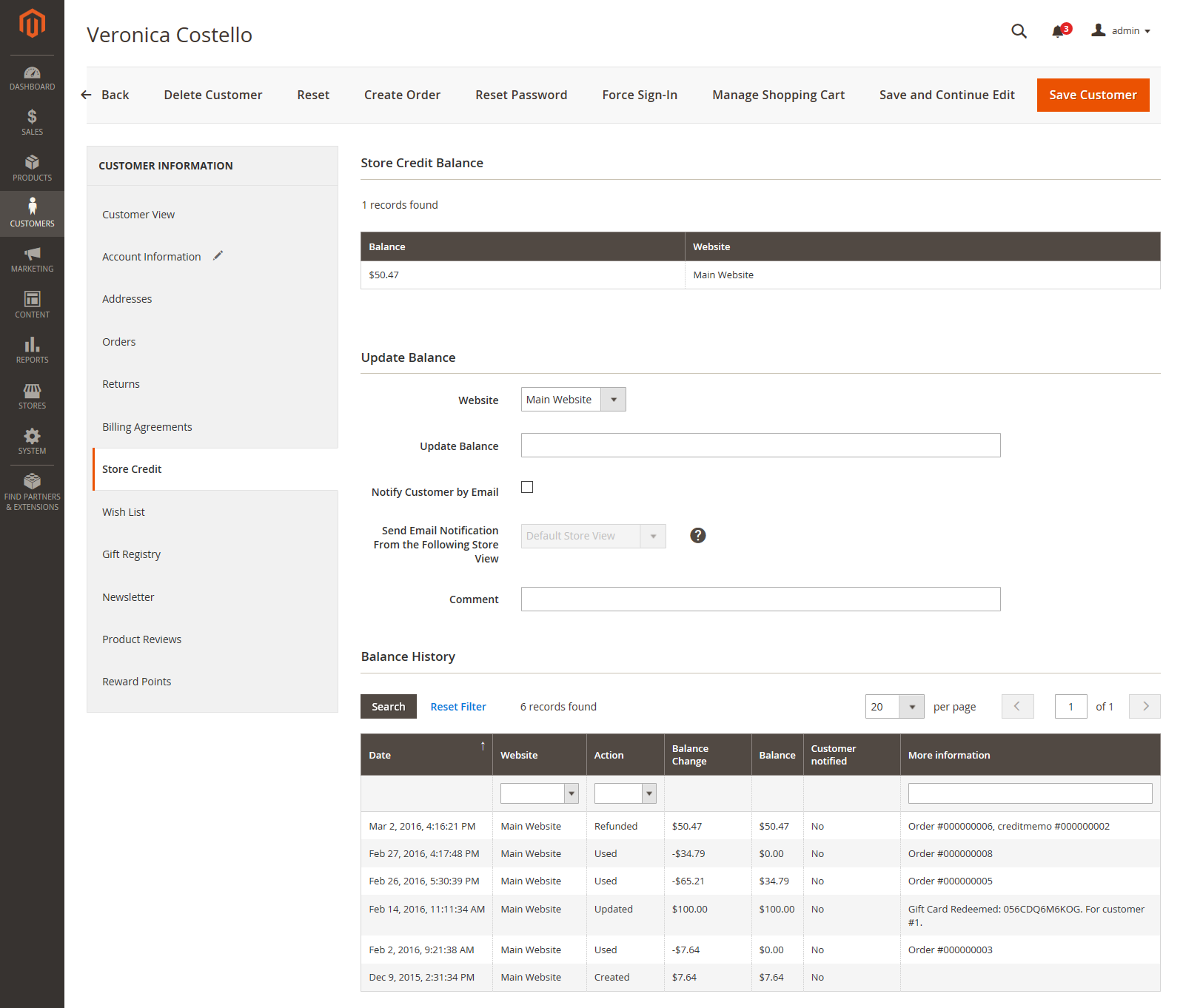 5. Customer Credit Balance and History

Should you want to set the store credit options, choose "Stores" on the Admin sidebar, then choose "Configuration" under "Settings". The next thing to choose is "Customer Configuration" in the Customers section. Choose "Yes" for "Enable Store Credit Functionality", choose the settings for other options below, and save configuration when you are done.

6. Store Credit Options
Returns
In case a customer wants to return a product, a unique RMA (returned merchandise authorization) number can be granted to them in order to identify the product that is being returned. You can enable certain groups of products that can be returned, or you can select all groups of products. The ones that cannot be enabled are virtual products, downloadable products, and gift cards. These settings can be configured in Stores > Settings > Configuration > Sales > RMA settings. First, click "Yes" to enable RMA on Storefront and Product Level, then set the address for product returns - Store Address or Alternate Address. When you finish, click "Save Config". Please note that only simple, grouped, configurable, and bundle product types can be returned.
Rule-Based Related Products
Thanks to this feature, you are able to group the products that are going to be displayed to customers as related products, up-sell products, and cross-sell products, based on product rules. In order to assign these rules to certain products, you have to choose "Marketing" on the Admin sidebar, and then follow the path Promotions > Related Product Rules. When you click "Add Rule", you need to fill in the Rule Information section. The required fields are Rule Name, Status, and Apply to, where you choose the name of the rule, set the status of the rule to "Active" to enable it and select the group of products to which the rule applies to related products, up-sells, cross-sells. In addition, you can apply the rule to one customer segment, or to all customer segments. You can continue the configuration by choosing Products to Match, below the Rule Information section. Choose Product Match Conditions that you want to add, or leave blank if you want to match all products. The final section is called Products to Display, and here you can either add Product Result Conditions or leave blank to match all products.
Gift Cards
You can send one of three types of gift cards to your friends or family: virtual, physical, or combined. The first one is sent via email, the second one is sent to the recipient's address, and the third one is both emailed and shipped. A person can use their gift card to pay for the whole purchase or just one part of it. Here is how the process of creating a gift card goes. To begin with, follow the path Catalog > Products. Then chose "Gift Card" from the section "Add Product". You can add an attribute set in the search box, and then go on to the required fields: Product Name, SKU, and Card Type. If you want to offer a choice of fixed gift card amounts to the customer, you can assign the fixed values by clicking "Add Amount". On the other hand, if you want to leave it up to the customer to choose the amount, you can set "Open Amount" to "Yes". Also, you can set the range of the minimum and the maximum amount by entering the values in "Open Amount From" and "To". As for the other settings, you can set the gift card to redeemable or non-redeemable, choose an expiration date (lifetime) of the card or leave it unlimited, allow a gift message, and customize an email template.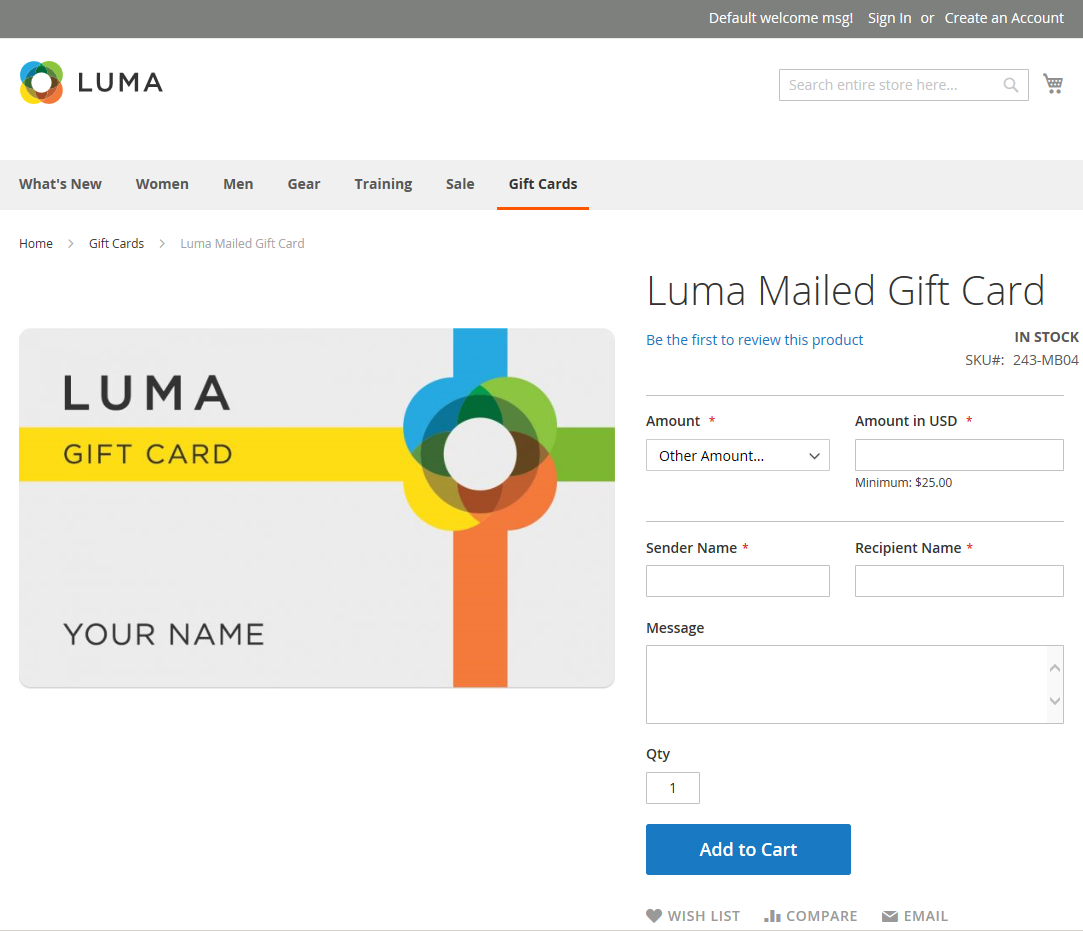 7. Gift Card Product Page
Multiple Wishlists
In order to manage this feature, you need to follow the path Stores > Settings > Configuration > Customers > Wish List. To activate the multiple wish list on your online store, choose "Yes" next to "Enable Multiple Wish Lists" in General Options. Then set the number of multiple wish lists allowed per customer, and specify the visibility of wish lists in the sidebar. You can also set "Share Options", such as the sender's email address, the template of the email, the maximum number of sent emails, and the length of the email. Another thing you can manage here is My Wish List Link. You can select either "Display number of items in wish list" or "Display item quantities" next to "Display Wish Lists Summary".
Customer Segments
Another very interesting feature of this platform is Customer Segments. It allows you to choose a specific group of customers based on certain properties and dynamically display content to them. Customer segments are defined by the following attributes: Customer Address Fields, Customer Information Fields, Cart Fields, Products, and Order Fields. In order to create customer segments, you need to follow these 4 steps: Enable Customer Segments, Add a Customer Segment, Define the Conditions, and Generate the List of Matched Customers. To enable customer segments, follow the path Stores > Setting > Configuration. Then click "Customer Configuration" under "Customers" and choose "Yes" next to "Enable Customer Segment Functionality". In the end, click "Save Config" to save the changes. Having enabled the customer segments, you can now go on to the next step and add a customer segment: Customer > Segments. Click on "Add Segment" and fill in the necessary information: Segment Name, Description, Assign to Website, Status, and Apply to. The third step is to define the conditions for a customer segment. First click "Add", then select the condition, and then save it. When you are done, it is time for the last step. To generate the list of matched customers, simply click "Matched Customers" and the list of all the customers who match certain conditions will be displayed. You can use the generated list to send promotions or emails.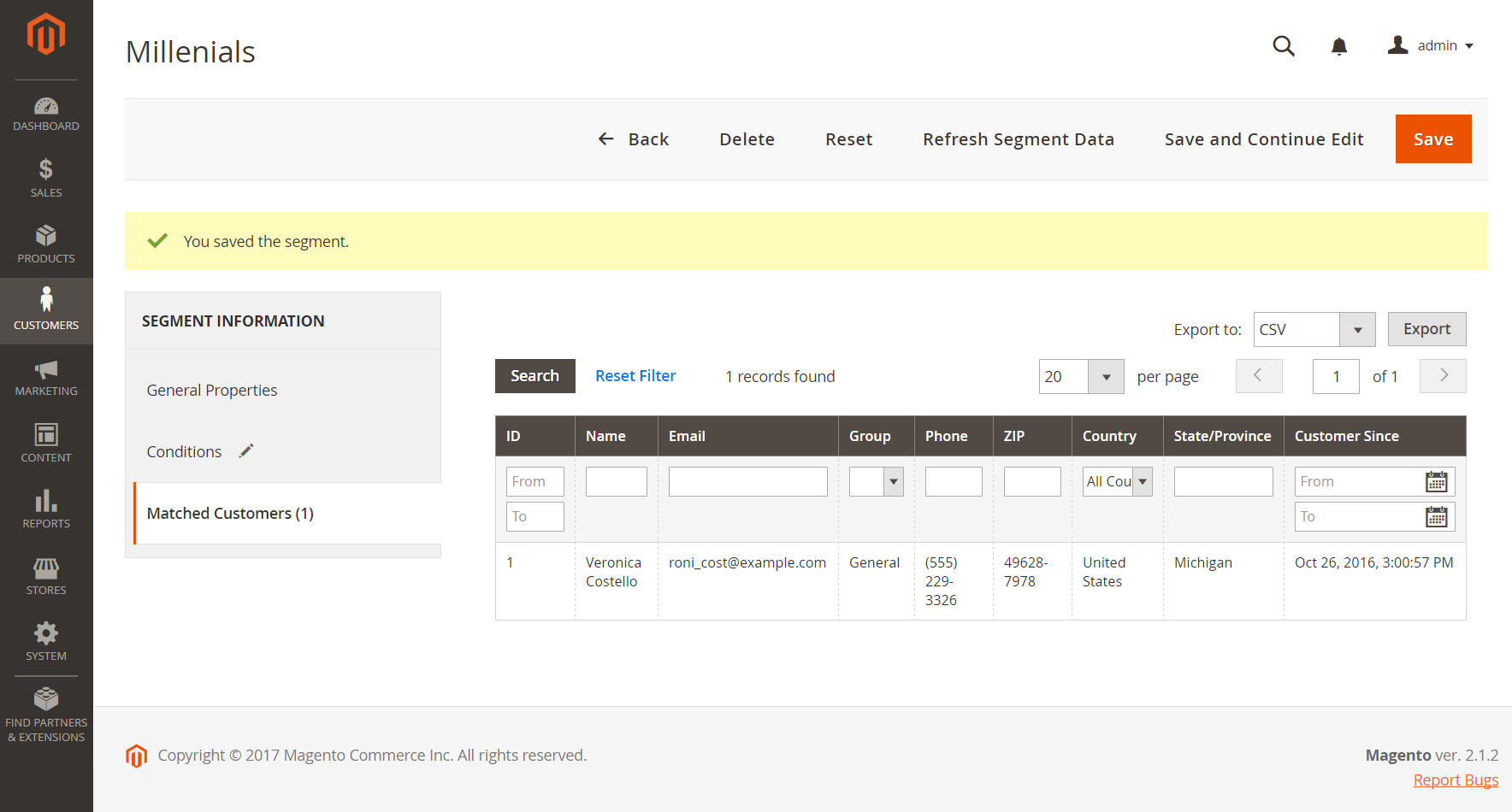 8. Matched Customers
To conclude, you have just been given 10 good reasons to choose Magento 2 Commerce as your trusted eCommerce platform. The top 10 features that we have described today, as well as many more that are available exclusively in M2, are sure to contribute to the improvement of your eCommerce store.

References: Magento User Guide
This entry was posted in Magento 2 and tagged Web Development, SyncIt Group, Magento 2, Web, Magento 2 Development, Magento 2 Features, Content Staging, B2B Modules, Admin Action Log, Visual Merchandiser, Store Credit, Returns, Related Products, Gift Cards, Multiple Wishlists, Customer Segments on November 01, 2019 by Itana Stanojević, SyncIt Group Content Writer .