SyncIt Group's Athena Search - Built for eCommerce
This entry was posted on March 26, 2020 by Maša Milošević, Project Manager.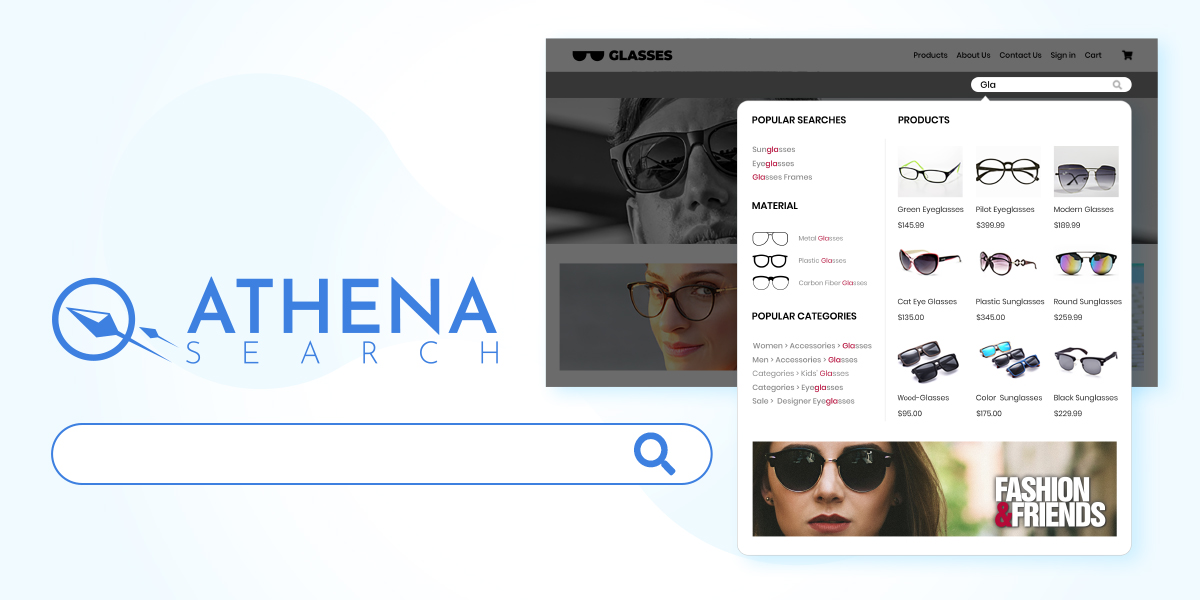 Why is Search so important for your website? Because it is the most important functionality on your website since it guides the users through the sales funnel directly to the purchase. The users who know exactly what they are looking for can easily enter the product name and get to the product page directly. For those not so sure about their intentions and preferences, it serves as the most useful guide through the products you offer. The conversion itself can be easily tracked and the statistics can be a valuable resource for the further enhancements of the website.
Magento website owners basically have 3 options they can choose between:
Magento Native Search
Extensions
Advanced Search Platform
Let's compare these three options over the key features of Search:
Autocomplete
Merchandising
Reporting
Integration
By the end of the article, you will realize why Athena Search represents the perfect choice for eCommerce websites.
Autocomplete
The power of autocomplete lies in the fact that it is crucial for enabling a seamless search experience. This is made possible by search result suggestions that should be visible as soon as a user starts typing in the first letters of the search term (or even earlier).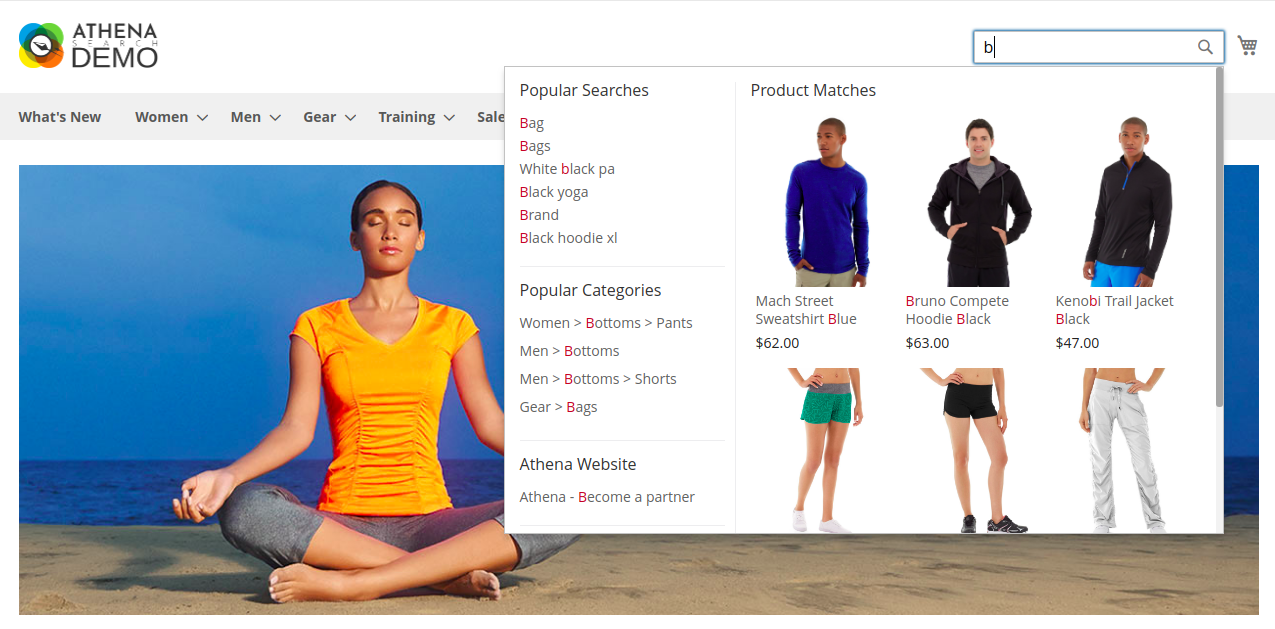 1. Athena Search Smart Suggestions
Magento
Even though Magento 2 ElasticSearch is pretty decent for small businesses and non-eCommerce websites, it fails in satisfying the needs of expert merchants with larger amounts of products. Not to mention the multi-site, multi-store, multi-language environments whose popularity and number increase by the second.
Here are some of the main disadvantages of the Magento default search that should not be overlooked:
The module is server intensive, which requires a dedicated server or a cloud hosting platform
The inability of the search bar to interpret the plural keyword forms
The inability of the search bar to understand difficult words due to the lack of the Synonyms tool and the Dictionary tool
Due to the complexity of the entered string or intricate subjects, the search results might lack the necessary relevancy
The lack of the spell checker or spell suggestions
"No Results" may be shown for entries with special characters
Predicting the suggestions is rather slow
In case you are looking for the "Blog" or the "Cookies Policy", there is a great chance that the results will be omitted
Product images, stocks, and ratings are not included in the search results
You cannot add the desired product directly from the search result page
Multiple result view is not allowed
Extensions
There is a wide range of autocomplete extensions, but for the purpose of our comparison, we will use the two most popular ones:
Amasty
Mirasvit
As far as the Amasty Magento 2 Extension is concerned, it provides the users with one or more separate sections with relevant search results that include products, categories, and CMS pages. Some of the advantages of this extension include the following:
Precise suggestions
"View All" link and "Add to Cart" button
Handy navigation tabs
The Mirasvit Magento 2 Extension is a bit more informative and faster than Amasty. The search window that appears quickly offers products and categories, CMS pages, as well as the relevant suggestions in the form of the most popular search terms. The main advantages of Mirasvit are:
Hot Searches for managing the most popular queries
TypeAhead, a useful auto-suggestion feature
Optimization of autocomplete layout for small screen sizes
Advanced Search Platform
Now, let us focus on our outstanding Search platform, Athena Search. The first thing you need to know is that Athena's advanced autocomplete functionality is fully customizable from the Dashboard. Once integrated, it gives you numerous possibilities to make it suitable for your eStore.
Firstly, you can add various sections in order to provide as many relevant search results as possible. These sections can include brands, categories, manufacturers, product blocks, product ratings, and so much more. In addition, you can create as many synonyms as you like in order to make it easier to find the wanted product.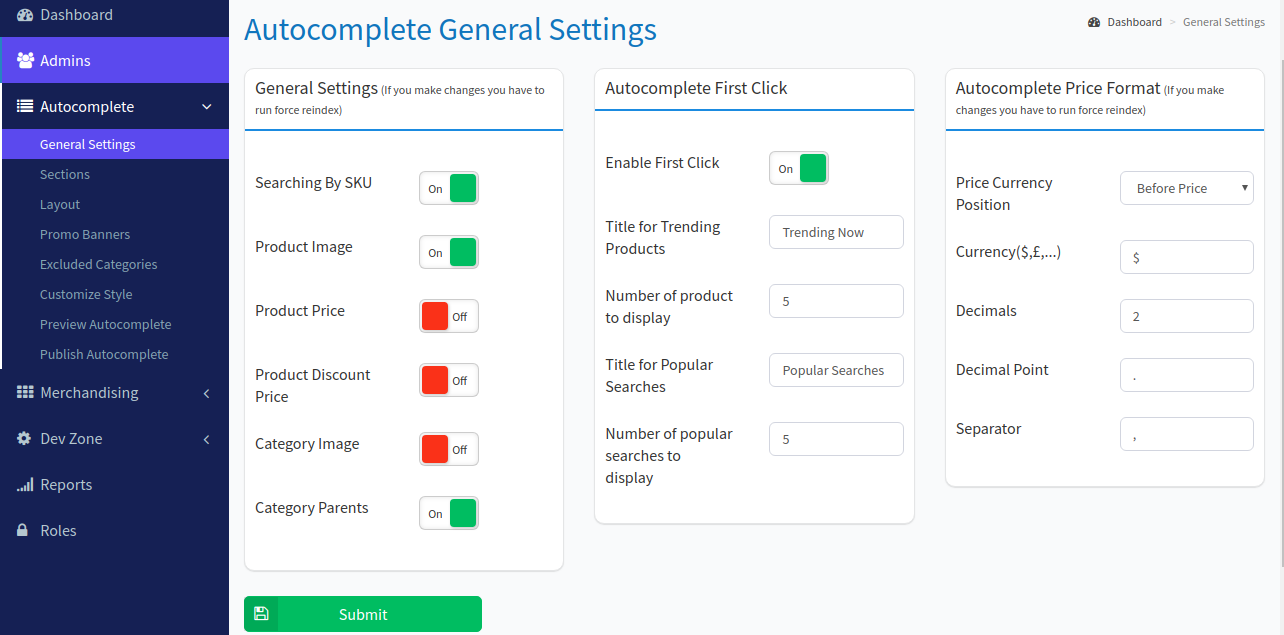 2. Athena Search Autocomplete
Based on your preferences, you can pick the layout of the search window that perfectly fits with your website. Moreover, you can use custom CSS to further customize the layout.
Another useful possibility of Athena Search is the fact that you can create amazing promo banners and incorporate them into your result suggestions. To make sure you got it all right, we have developed a preview option prior to publishing.
Saving the best for last, Athena offers you the most popular search results before you even begin typing the first letter of your search term! Just click on the search box and there is a great chance that you would immediately find what you are looking for. You can try it now on our demo web store!
Merchandising
Promoting the right products in the right way can be crucial for your store's success. Rich merchandising functionalities, such as Keyword Redirects and Synonyms, can make a huge difference as far as the relevancy of the search results is concerned. Apart from the obvious choice of adding the products to search results, it is more than convenient to add categories and CMS pages. Why? Because it accounts for the best search and user experience. Instead of searching for the "Contact Us" or "Privacy Policy" links, a user is able to enter these terms in your search box and be redirected to the appropriate web page. Or, if they are looking for a specific product and do not know where to start, you can provide a corresponding link within the search results box and help them out.
Magento
Without an extension, ElasticSearch is almost entirely helpless. If you want to enable Search Suggestions, which is highly recommended for eCommerce stores, you risk slowing down your website. The same thing can happen if you enable Search Recommendations, as well as if you set Search Recommendations Count or enable the Show Results Count for each Recommendation (or Suggestion).
Extensions
Amasty offers you the possibility to add products, categories, CMS pages, landing pages, brand pages, and blocks of popular or recent searches. Creating virtual categories with Amasty Visual Merchandiser can help you direct your customers' attention towards new arrivals, products on sale, or the products that are about to be sold out. Some of the advantages of this extension are:
Sorting categories using drag-and-drop
Pinning and moving products to the top
Applying various rules and conditions
Adding products automatically to virtual categories
The Mirasvit extension adds products, categories, CMS pages, and forums to the suggested search results as well, and it includes the popular search results block. Moreover, it supports searching for products by tags, associated product SKUs, and category names. Here are more merchandising features offered by this extension:
"Long-Tail" search
Fallback search
Pushing "out of stock" products to the end
Ability to set search category (as in Amazon)
Advanced Search Platform
When it comes to Athena Search, there are numerous merchandising options to choose from.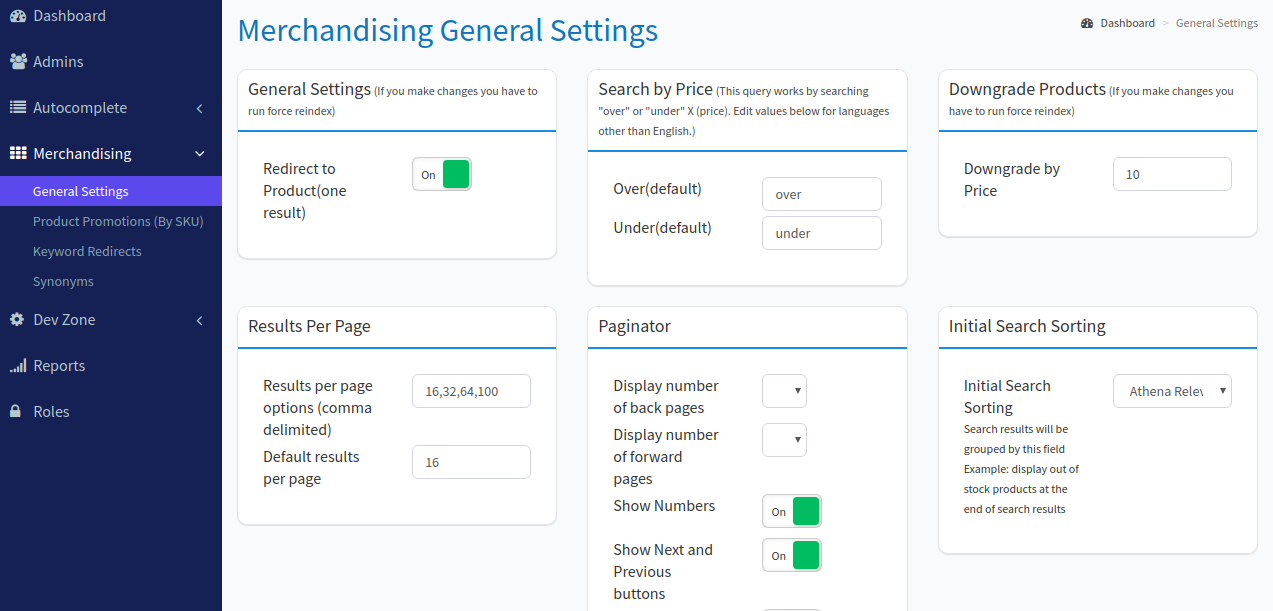 3. Athena Search Merchandising
Keywords Redirect is one of the most useful ones, since it helps you redirect your customers to all of the important pages that they might be looking for, such as "Contact Us", "Privacy Policy", "Terms of Use", etc.
Thanks to the rich Synonyms functionality, you can easily create associations between different search terms which will help your customers immensely.
Moreover, you can create Category Rules and Product Rules and manage the way your products are displayed. Move the ones you want to promote to the top of the page or search results, redirect one-result searches towards the Product page, downgrade search by price, choose a custom number of displayed products per page… the options are limitless!
Reporting
In order to keep up with your business flow and incorporate any necessary changes into your marketing plan, you need to have access to an in-depth analysis concerning the performance of your online store. This is why it is extremely important that the Search you have chosen offers detailed, precise, and interactive reports.
Magento
Magento's Search Terms report is rather limited to the basics. Namely, it shows only the number of results per term and the number of times the term was used. Should you need any data for further analysis, you can filter the report by terms, store, results, and hits and export the report.
Extensions
Amasty's Search Analytics diagram contains the following:
The number of total searches
The number of unique searches
The number of users
The percentage of users' engagement
In an additional block, you can find the statistics that show the most wanted search terms and search volume, e.g., customers' recent activity. For a more detailed report, you need to click on the "View more" link. On a separate page, you can preview the most used search queries or recent searches correspondingly.
In case you want to preview all search queries entered by users as well as their performance, you can find it all in one place, under the Search Terms Report. Search terms relevancy and details of existing search queries can be modified here as well.
As for the Mirasvit extension, you can analyze the reports by the following categories:
The most popular search terms
The engagement of users
Time interval
What is more, it offers you interactive charts for data visualization, report builder for creating custom reports, flexible filters for any column, Web API, and mobile and desktop dashboards with key metrics.
On a single page, you can preview the number of orders, ordered items, shipping, discount, invoiced and refunded orders, average order amount, recent order, and follow the profit that is being made.
Advanced Search Platform
Athena's Reports are as detailed as they can be.
To start with, you can choose whether to preview the reports for Search or Autocomplete. Then, you can preview the reports for the current day, week, month, or year, or you can pick a custom date or date range from a handy date picker.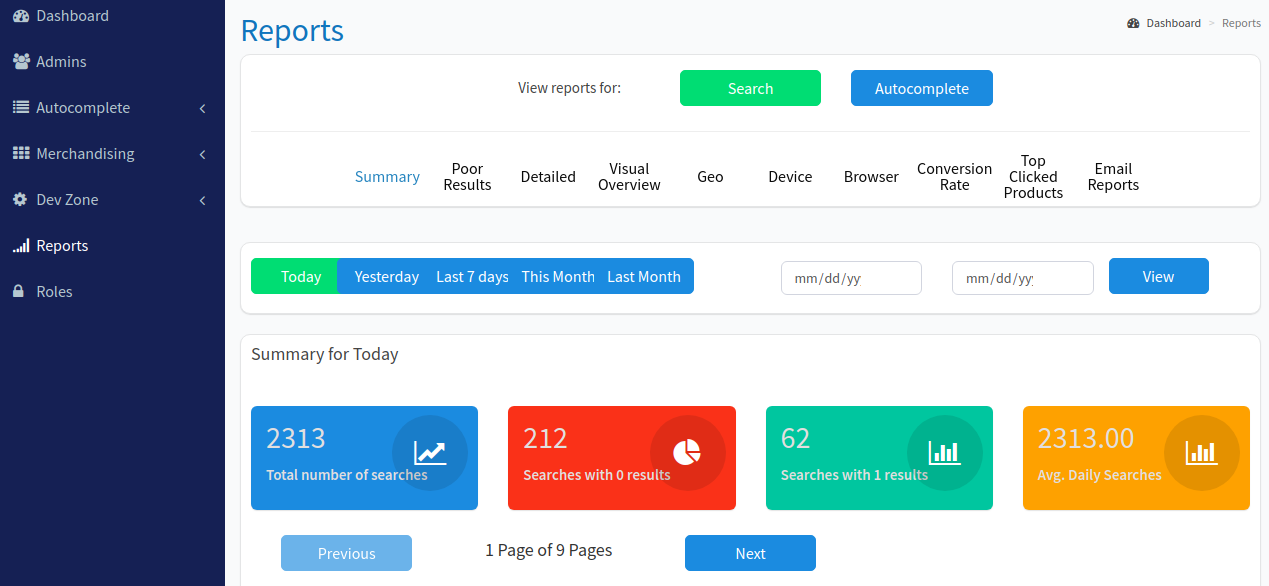 4. Athena Search Reporting
The types of reports include the following:
Summary (total number of searches, searches with 0 results, searches with 1 result, average daily searches, the number of top search terms, searches yielding one result, absolute zero results)
Poor Search Results (absolute zero results, searches with one result)
Detailed Report (total number of searches that matched your criteria, search terms, number of results, date and time, refinements, page, type, country, browser, device, customer)
Visual Overview (interactive graph for search results)
Geo (chart with the geographic location of users)
Device (a chart that shows which device was more used for search, desktop or mobile)
Browser (a chart that shows which browsers were used for search)
Conversion Rate (total order count, total order amount, represented by numbers, charts, and graphs, for Athena Search orders and other orders)
Top Clicked Products (top clicked product display)
Email Reports (for adding email addresses of the people you wish to receive reports)
Note that you can choose a different date or date range while browsing the above-mentioned categories.
Integration
All of the previously mentioned features are equally important for providing your customers with the best and most relevant search experience. But, it may all be in vain if you cannot integrate the necessary software solution with all of the Magento 2 editions.
Magento
Applying ElasticSearch gives you an opportunity to enhance your Magento 2 store, but only if your store is built on Magento Open Source 2.3.0 or Magento Commerce. As for other 2.2.x editions of the platform, a proper module installation is required, and you can choose between free and paid Magento 2 ElasticSearch modules.
For those of you who have built stores using the Magento Open Source 2.3.0 or Magento Commerce edition, here are some of the advantages of Magento 2 ElasticSearch:
Search optimization
Search autocomplete
Thesaurus management (synonyms, expansions)
Advanced price slider
Multi-select in layered navigation & swatches
Redirect to product page for one-result searches
Auto spell checking
Stopwords detection
Customizable filters
Search under various languages
Real-time data and analysis
Extensions
Amasty offers Magento 2 Advanced Search Extension for both Community and Enterprise edition, for the price of $199 and $499, respectively. For the Community Edition, the installation price is charged $59, and for the Enterprise solution, it is free of charge.
Also, there are two additional technical support services that are optional:
Priority Support Service
Personal Support Service
The former moves your support tickets to the top of the list, while the latter provides leading expert assistance. Both services are free for enterprise users.
The advantages of Amasty integration support include:
Advanced autocomplete window
Recent and relevant search results
Products, categories, and product reviews in search results
Search in categories, products, and CMS pages
Customization of the search window layout
More Products button
Add to Cart button and multiple search blocks within the autocomplete window
Magento 2 Sphinx Search Ultimate by Mirasvit costs $249 for the Community edition and $448 for the Enterprise edition. The installation services for both editions are charged $49. Mirasvit offers a 90-days free and high-quality support policy to all of the clients.
Some of the advantages of the Mirasvit extension are the following:
Product search by category names, tags, SKUs
Stop words, synonyms, typo correction, long-tail search, singular/plural search,
Search by multiple content types (catalog products, categories, and attributes; CMS pages, blog, Simple Press Forum, news by CommerceLab, vBulletin Forum, Blackbird Content Manager)
Landing pages
Fallback search
Responsive themes
High indexing speed
Advanced Search Platform
Athena's technology can be integrated with all Magento 2 editions.
The price of the software starts at $99, but it may vary depending on the number of searches, SKUs, API calls, websites/store views integration, etc. Athena Search is SaaS-based, which means the software is paid for each month.
The benefits of the integration include:
Customizable autocomplete and smart predictions:

Stop words
Synonyms
Keyword redirects
Long-tail search
Singular/plural search
Attributes
Error detection
Popular products block
First-click suggestions
Product search by categories, tags, SKU, color or size

Feature-rich dashboard with numerous customizable UI/UX tools
Responsive design with modern search layouts
Extremely fast indexing for best search experience
Detailed Reports (Summary, Poor Search Results, Visual Overview, Geo, Device, Browser, Conversion Rate, Top Clicked Product, Email Reports)
WordPress/WooCommerce Integration
Wrap Up
Taking every aspect of the discussed Searches into account, we strongly believe that there is more than one good reason to choose the advanced technology of Athena Search as the perfect software solution across all Magento 2 editions.
By choosing Athena Search, you choose powerful, relevant, accurate, intuitive, and extremely fast improvements for your business!
Should you have any questions about our product, feel free to contact us at [email protected] and we will be happy to provide you with all the necessary information in the shortest time possible.
Visit Athena Search website
Sources:
https://www.mconnectmedia.com/
https://magento.com/technical-resources
This entry was posted in Search and tagged Magento, Web Development, SyncIt Group, Magento 2, Web, eCommerce, eCommerce Development, Athena Search, Search, eCommerce Search, eCommerce Websites, Advanced Search Platform, Magento 2 Integration, WordPress Integration, WooCommerce Integration, Autocomplete, Merchandising, Reporting, Integration on March 26, 2020 by Maša Milošević, Project Manager .