Magento 2 Community Edition vs Magento 2 Commerce Edition
This entry was posted on August 06, 2019 by Itana Stanojević, SyncIt Group Content Writer .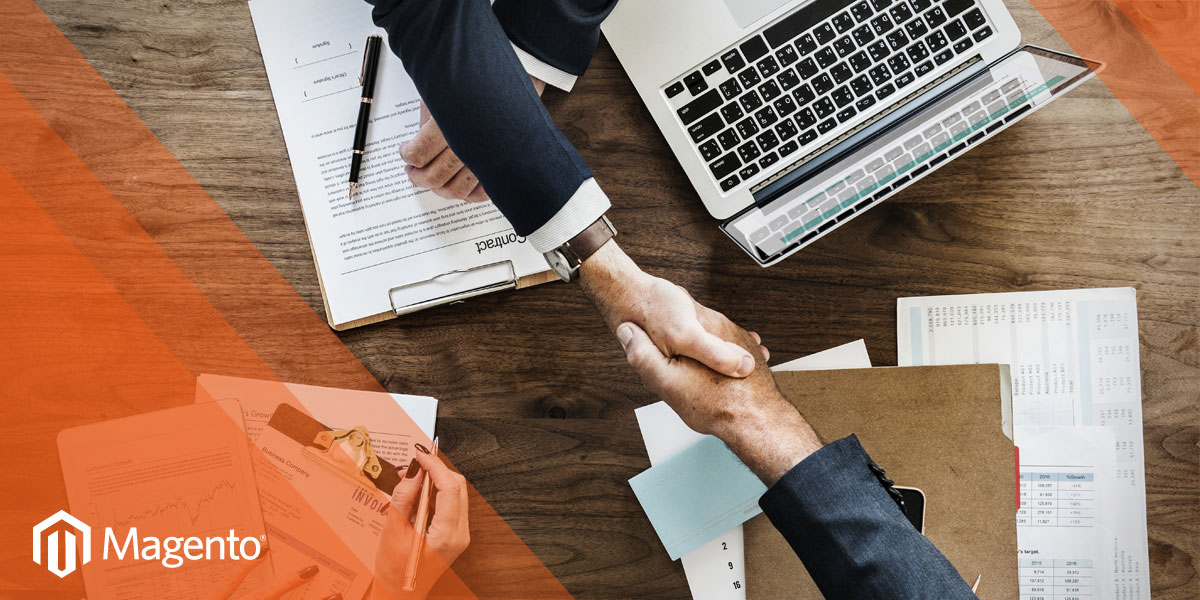 Are you planning on creating an online store for your business? You must be wondering which platform to use. Well, wonder no more, the answer is Magento! The real question is should you use Magento 2 Community Edition or Magento 2 Commerce Edition? If you cannot decide for yourself, let this article be your guide towards making this decision. Pay close attention to the facts that are going to be stated, and you are sure to make the right choice.
General Characteristics
Magento 2 Community Edition, previously known as Open Source Edition, was released on August 9th, 2017. It is called an open-source eCommerce platform since you can use it for free, as well as to adapt it to your own needs. If you are a small- or medium-business user, this platform is certainly the best choice for you. With zero payment, you have the possibility to create and edit a platform of your preference with no trouble at all. Community 2 Edition offers you simple management tools, and that is why it is perfect for beginners who want to develop their online stores from scratch. Some of the brands that are widely known use this platform; some of them are Brand Alley, Bulgari, Le Creuset, Bucherer, PMT Music, PrettyLittleThing, The V&A, Erdem, Kurt Geiger, Christian Louboutin, Missguided, Wrangler Europe, Lee Europe, Harvey Nichols, Agent Provocateur, Nobel Biocare, Ford, and Tog24.
Magento 2 Commerce Edition, previously known as Enterprise Edition, was released on November 28th, 2018. Contrary to Community 2 Edition, you have to pay for this eCommerce platform in order to use it for your medium to enterprise business. Its rich pallet of features and many other useful functionalities, such as B2B functionality, Content Staging and Preview, Advanced Marketing Tools, Customer Loyalty Tools, and excellent Technical Support, make this platform worth paying for. If you want your customers to define your company as trustworthy and customer-oriented, then Magento 2 Commerce is the platform you are looking for. Many global brands use this platform, among them being Nike, Monin, Jack Daniel's, Seat, Canon, Helly Hansen, HP Inc, Jaguar and NCG, Marimekko, Burger King, Easy Spirit, Bulk Powders, Ahmad Tea, Paperchase, Smythson, BrewDog, JCB, Made.com, End Clothing, Paul Smith, Micro Scooters, Bjorn Borg, etc.
Now that you have gotten acquainted with the main characteristics of Magento 2 Community and Magento 2 Commerce, we can explore these two eCommerce platforms in great detail.
Functionalities and Management
These two platforms share many functionalities, some of the most important ones being integrated checkout, payment, and shipping, custom website design and styling, a multiple language pack, site search, online customer groups management, managing information across multiple online stores from a single admin panel, one-page online checkout, gift message management, multiple shipping address management, free shipping, manage shipping by weight and destination, search engine friendly URL's including URL rewrite controls, integration with Google Analytics, online poll creation and management, RSS feed of new orders, feature-rich customer accounts, address book with unlimited addresses, and many other extremely useful functionalities
However, there is also a great number of beneficial features that Magento 2 Community is lacking, and Magento 2 Commerce can proudly offer to its users. The list of these features is pretty long, so pay close attention to the benefits that the Commerce 2 Edition can bring you.
Business Intelligence Dashboards – all of the business data from all platforms displayed on one screen. Should you choose Magento Business Intelligence Pro, you will be able to sync, store, and refresh all data with extreme ease. Improve your business management with better insights.

For further information click here.
B2B Functionality – company account management, access control to accounts and subaccounts, unique pricing, quick order by SKU, requisition lists, etc. More than 90% of vendors around the globe prefer online purchase, so embrace this trend with this convenient functionality.

For further information click here.
Advanced Marketing Tools – tools that can help you improve your business by managing promotions, SEO and UGC, and communications (i.e., Banners, Related Product Rules, Private Sales & Events Google Tag Manager, Search Synonyms, Email Reminders, Gift Registry, Store Credit, Virtual Merchandiser, etc.).

For further information click here.
SERP Ranks and Visibility in Search Results
For an expandable business with a lot of online transactions, it is important to choose the platform which is able to receive a large number of orders per hour. As far as Magento 2 Commerce is concerned, the number of orders per hour reaches as high as 250,000. The checkout speed is another important feature, and yet again, the Commerce 2 Edition wins the battle – it takes only 2 seconds for this platform to finish the task. When it comes to your online shop, you can divide your database into three categories: Sales, Checkout, and Order Management, which is very convenient. Thanks to its 24/7 technical support, you are sure to receive any type of help at any moment, so you can rest assured that all possible technical issues are to be resolved in no time by the Magento team. There is no need to pay extra in order for Magento developers to fix the issues, as it is the case with Community 2 Edition since it has no technical support at all.
More on SERP ranks:
https://magento.com/blog/best-practices/seo-best-practices-ecommerce-product-pages
Security is Imperative
There is no question about it – security is one of the key elements when it comes to your business. Since Magento 2 Community is not PCI compliant, it is up to you to choose one of the two possible solutions to make it one. The first solution would be choosing one of the third-party payment methods, e.g., PayPal; the second solution would be SaaS PCI compliant payment method. In comparison to the Magento 2 Community, Magento 2 Commerce is PCI compliant, and it is connected to the Magento Secure Payment Bridge. Furthermore, it supports the Payment Application Data Security Standard (i.e., PA-DSS), which makes this eCommerce platform even more stable and trustworthy. Other security measures may include some of the following: a monthly review by Magento developers; changing your password from time to time and making sure it is strong enough; restricting admin access using a specific IP address; using Secure File Transfer Protocol in order to protect your web store from greedy hackers; preventing data interception by employing an HTTPS/SSL connection; engaging a two-factor authentication; constantly updating Magento. Your business will most certainly be the safest provided that you use as many security measures as possible.
More on Security:
Customer Loyalty
If you want to establish a solid customer base, you have to play the loyalty card. Without any doubt, Magento 2 Commerce wins this battle before it even begins, since it is rich with functionalities related to this field. One of the most important ones is Magento Commerce Reward Points System. Thanks to this system, you can improve your customers' experience and gain their trust. One of the things you are able to do is set up certain points for certain customer actions; then, assign a conversion rate between points and currencies. In this way, your customers can spend their earned points when purchasing your products. Another thing that is going to make your customers jump with joy is Gift Registry. They can easily make multiple wish lists in the Customer Dashboard and invite their friends and family to purchase the chosen products. The Gift Registry is directly connected to My Cart and My Wish List, which means that it is automatically updated after one of the products has been added to either one of these. Pretty convenient, isn't it? Yet another practical functionality is Gift Registry Search, which enables you to find a particular gift registry by name, email, or registry ID.
More on Customer Loyalty:
https://docs.magento.com/m2/ee/user_guide/marketing/rewards-loyalty.html
To Pay or Not to Pay - That is the Question!
Taking everything into account, the decision comes to this important question – should you use the free platform or the costly one? In other words, Community or Commerce Edition? Here are three good reasons why you should choose the Commerce 2 Edition:
The number of orders per month is 5 times higher on the M2 Commerce platform. Hmm, OK... What else?
If you chose M2 Commerce, your turnover is sure to be 10 times higher than the one on M2 Community. Not bad, M2 Commerce! Not bad at all...
Should you chose M2 Commerce, the number of new visitors per month would increase by 50 times! Wow! Now we're talking!
To conclude, you should take into account everything that these platforms offer, and choose the one that gives you an undeniable opportunity to grow, no matter the cost. Why not shoot for the stars? Why not be in the company of the greatest companies on the globe? It all comes down to growing a successful business that is going to provide income for the years to come. Our choice is more than obvious… How about yours?
This entry was posted in Magento 2 and tagged Magento, Web Development, B2B, B2B strategy, B2C, B2C strategy, eCommerce platform, SyncIt Group, Magento 2, Magento 2 Commerce, Web, Magento 2 Development, Magento 2 Community on August 06, 2019 by Itana Stanojević, SyncIt Group Content Writer .