I'm Here - SyncIt Group's Smart Geofencing App
This entry was posted on November 28, 2019 by Neda Milosavljević, Senior Android & iOS Developer.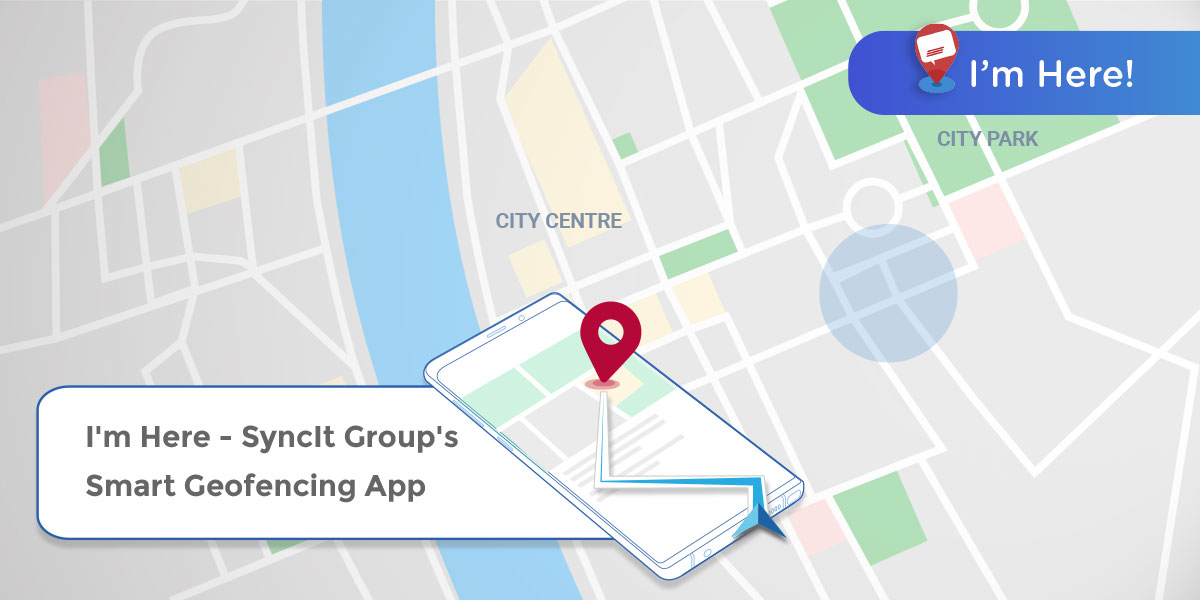 What is I'm Here?
I'm Here is a platform developed by SyncIt Group Company based on the Geofence technology. The core of the platform is the GPS technology that is already built in the current mobile devices.
The user predefines various events that are triggered by the user's position while entering or leaving geofence zones. At the moment, I'm Here Zone is able to trigger Gmail emails and push notifications automatically based on the users' location. The automation of sending SMS and WhatsApp messages as well is currently in the development process.
The fact that you can use the GPS of your mobile phones instead of GPS devices which are able to send messages, has brought the system closer to a great number of mobile phone users. Thanks to this, the users do not have to buy GPS devices that have to be connected to the Internet or the GSM network, they can use the mobile phones that they already own for sending different types of messages.
What is Geofencing?
Geofencing is a technology that defines a virtual boundary around a real-world location area. A radius of interest is established triggering an action (e.g. sending a text message and/or email) allowing notifications to be generated on a geo-enabled iPhone, Android or other portable electronic devices.
Geofencing has a wide area of application including both casual and business use. Users can send text messages based on their location area to a friend's cell phone (Android or iPhone) when they, for example, enter a virtual boundary surrounding a friend's house. It's also possible to establish a geofence location area around a neighborhood and send text notifications to Android or iPhone users who expect package delivery from your company. Restaurants can send text messages with the day's specials when a customer enters a geofence location area.
I'm Here Standalone App
Thanks to the vast possibilities of I'm Here Zone Geofence platform, our company has developed I'm Here, an Android and iOS application which you can find on Google Play and Apple store.
As a standalone application, it is being used in everyday life for personal needs, and it is free of charge. This app allows users to send pre-generated Gmail emails or push notifications based on their geofence location area, thus informing others, even if they do not own the application when they enter or leave a geographical area. The messages can be either default or customized, and you can choose whether to setup recurring or one-time messages. Currently, there is no similar application on Google Play and the Apple Store that generates different types of notifications.
The geographical area is defined by being drawn on the map. Users can create their customized geofence zones by using OpenStreetMap, which ensures a high level of geofence precision. The zones can be further customized by assigning colors and icons to them, as well as by setting the time duration of the zone.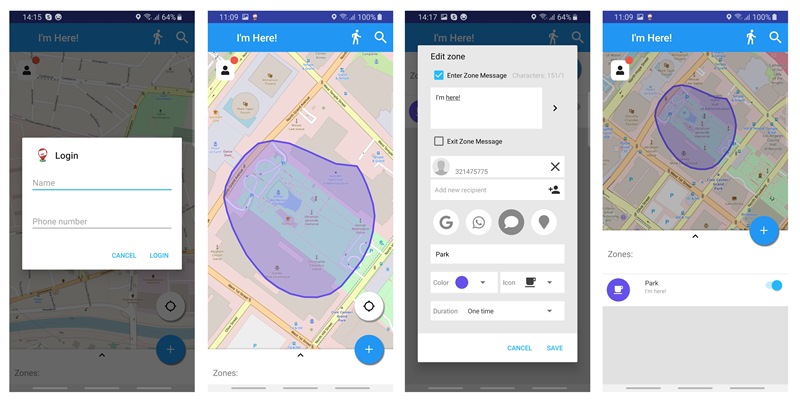 1. I'm Here App
I'm Here App - The Best Solution for Road Traffic Safety
According to International Traffic Safety Data and Analysis Group (IRTAD), nearly 1.25 million people are killed and tens of millions are seriously injured on the roads every year. A great number of these accidents are caused by using mobile devices while participating in traffic. Some people use speakerphones in order to reduce the chances of a possible accident.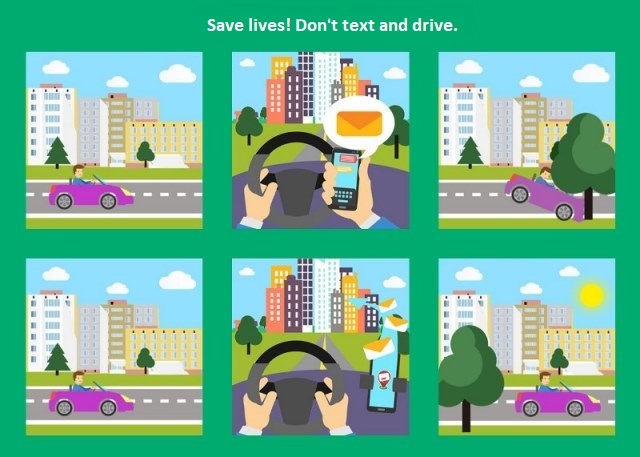 2. Road Traffic Safety
On the other hand, most of the drivers tend to actively text while conducting a motor vehicle, which presents a bigger problem, since they cannot look at the road and the phone at the same time. It is stated in Wikipedia that "drivers who text when behind the wheel, are twenty-three times more likely to have an automobile crash." Most of these texts have informative content, for example, "I can't talk right now, I'm driving. I'll be home in half an hour. What's for dinner?". Just think about how long it takes you to open to reply to someone's message by typing in these 85 characters and hitting "Send". That is the amount of time in which you are not completely focused on the road, both physically and mentally.
Now, imagine that you are sitting at home. You install the App and start by creating a custom zone by drawing a free-hand map around your favorite destination. It can be in any shape you like, so make sure to let your creative side shine through. Then, you choose a color and an icon for the zone, give it an interesting name and type in the desired content of the message. After that, you define the recipients from your contact that will be receiving your customized message as soon as you enter the predefined zone. Or, if you are not a fan of the customization, you can simply choose one of the predefined messages, like "Set up the meeting, I am nearly at the office" or "Open the garage door", and the rest of the options will be set up by default. When you are driving back home from work or business trip, you know that you can count on I'm Here to inform your loved ones or coworkers that you are coming soon.
Another convenience of this app is that it can also inform others when a user leaves a predefined zone. For example, if you install the app on your child's mobile phone, you can easily set the zones and be informed of its whereabouts - when it leaves your home to go to school, when it leaves the school, the park or a friend's house, etc. Bear in mind that your child is also participating in traffic, whether it rides a bike, a scooter, or goes on foot. You can come up with original message content, such as "Buy, mom and dad! I'm off to school!" or "I've just left Eric's home. Be home in 15 minutes." Of course, you can always choose the predefined messages with simple content for entering or leaving a zone - "I'm Here" and "I'm leaving".
Coming Soon - I'm Here Enterprise Solution
SyncIt Group is currently developing an enterprise solution on the principles of the SaaS application. This solution is going to comprise of a Web platform which represents a master application, and mobile devices that represent slave applications.
The main features of the enterprise solution will be the following:
Creating multiple zones
Storing multiple recipients
Sending default or customized messages
Setting up recurring or one-time messages
Customizing icon and color to each zone
High accuracy
Low battery consumption
Comprehensive design
Android geofence
iPhone geofence
Sending SMS
Sending WhatsApp messages
Sending and receiving Push notifications
Sending emails via Gmail
Enterprise application is intended for business users and it has a wide area of service. It can be applied in the following fields: fleet management, tourism, hotels, restaurants, shops, location management, marketing services, and many more.
One example of the use of this application might be for a Winter Service Vehicle company. Just imagine, you will be able to send automated notifications to the residents of a specific area to move their cars in order for your workers to remove the snow without any difficulties. Extremely convenient, isn't it?
Another example includes a fashion store and its offers. Whenever I'm Here App user passes your store, they will receive notifications about daily or monthly sales, special prices, new products, etc. This type of brand promotion is crucial for marketing nowadays since it offers a serious edge over the competition which is bound to lead to an increase in your profit.
The enterprise version of this application is going to have another very convenient use in the form of the check-in/check-out system for the workplace. Thanks to the GPS on your mobile phone combined with the Geofence technology, the App will be able to check in the workers when they enter the office and check them out when they go on a break or finish their workday.
This is just a sneak-peak into what this unique solution will offer to its users. The best is yet to come, so make sure you keep up with our latest work via social networks and our website. Should you need more information about our products and services, do not hesitate to contact us at [email protected]
This entry was posted in Mobile Applications and tagged Web Development, SyncIt Group, Web, Mobile Applications, Mobile Apps, Mobile App Development, Android, Android Development, iOS, iOS Development, I'm Here, I'm Here App, Smart App, Geofencing App, SyncIt Group Product on November 28, 2019 by Neda Milosavljević, Senior Android & iOS Developer .